---
SUNDAY, OCTOBER 22, 2017
---
From memories of her childhood in Lyon to the autobiographical inspiration of her work, the filmmaker offered the public a generous spirit and humor during her master class at the Comédie Odéon.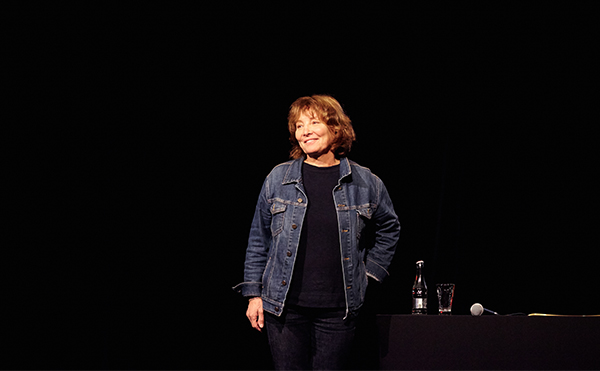 © Institut Lumière / Léa Rener
"At age 11, I had written on a piece of paper: 'One day, I swear I'll be famous." The little Diane Kurys, who played in the streets of the Croix-Rousse neighborhood, has won her bet in life. "In Lyon, each place is marked by a memory of my childhood or filming," said the director, who still looks like a teenager, and whose honesty and abundant energy won over the room.
"An ugly duckling" in search of acknowledgement, Kurys leaves the family nest at age 16 to join her lover in Israel (future director Alexandre Arcady). Back in France, she becomes an actress, a "frustrating" job for this woman who craves freedom. She then begins writing an autobiographical novel, which will become the screenplay of Peppermint Soda. "The film was completed in a few months. On the day of its release, December 14, 1977, the film won the Louis-Delluc Prize. In my Astroflash horoscope for the day, it was written: 'You are at the peak of your glory!'" she tells a laughing audience. Peppermint Soda is a box office hit, selling 3 million tickets, and Diane Kurys enters French cinema history.
After Entre Nous, which receives an Oscar nod for Best Foreign Film, the director shoots the period movie, The Children of the Century. While filming, she witnesses costars "Binoche and Magimel becoming a couple, right under my lens." In 2013, she returns to "family origins" with the very intimate work, For a Woman, shot in Lyon. She then lifts the veil on a family secret: "Thinking back to certain moments of my childhood, I told myself that I was perhaps not the daughter of my father. In making this film, I've made peace with my childhood." The girl from La Croix-Rousse has become a serene woman, still passionate about her profession: "I think we make movies to connect with others, to avoid feeling lonely."
Laura Lépine