---
PostED ON MONDAY, OCTOBER 16, 2017

---
After his triumphant arrival at the opening ceremony, Eddy Mitchell gave a memorable master class on Sunday morning at the Pathé Bellecour. The final word for moviegoers was spoken!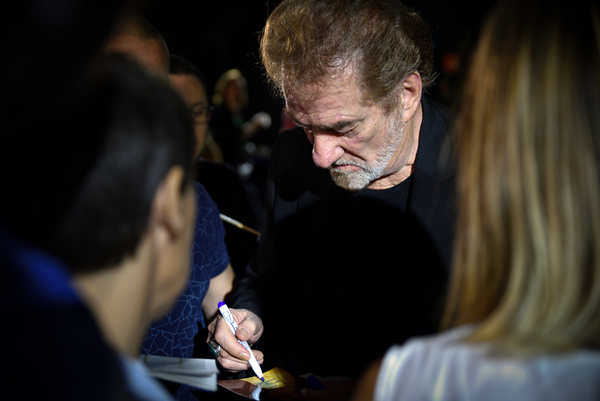 © Institut Lumière / Jacques Croizer
"A great actor, an unparalleled cinephile and an extraordinary personality!" Following this declaration of love by Thierry Frémaux, under thunderous applause from the crowd, Eddy Mitchell made his entrance on Sunday morning at the Pathé Bellecour theatre to give an unforgettable Master Class. The actor and host of "La Dernière séance" ("The Last show") provided a frank assessment of his passion for the cinema: "After school, there was no homework, so my father took me to the movies." Capable of naming all the film theaters of Belleville in less than a minute, the beloved singer became a kid again when discussing his idols: Gary Cooper, Burt Lancaster and Robert Mitchum (whose last name seems perhaps a bit familiar?) "His way of acting, giving the impression of not being there, is like no other: he is unique!"
It was impossible to avoid quoting Bertrand Tavernier's Coup de torchon, in which Mitchell played the role of Nono: "A well-written script with fantastic characters; I said yes spontaneously," declared Eddy Mitchell, under the admiring gaze of his director. He then told a savory anecdote: "During the filming of My Other Husband by Georges Lautner, I had gotten into an argument with Roger Hanin. To get my revenge, I ate garlic sausage before filming the scene where I give him mouth-to-mouth!"

Joined on stage by his friend Pierre Richard, the singer with the devastating humor shared one last story: "Michel Serrault and Richard Bohringer refused to carry me for a scene in City for Sale. I proposed to film a three-quarter shot. Mocky told us, 'Deal with it yourselves, I have another movie to make!' It's a good story for a cinema master class, right?" he said to the audience erupting with laughter. With Monsieur Eddy, we never want it to be "the last show"...
Laura Lepine