---
PostED ON TUESDAY, OCTOBER 17

---
He clearly knows how play on the nerves of the public. After showing an enigmatic little black and white film, promising a journey towards "unknown lands," Danish filmmaker Nicolas Winding Refn declares, "The cinema is dead, as of Monday, October 16, 2017!" A daring pronouncement, made in the "high temple" of the Lumière Institute theatre. He even asks the crowd to join him in "observing ten seconds of silence"!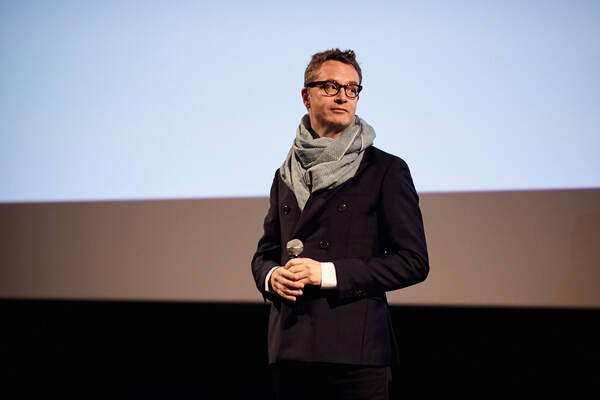 © Institut Lumière / Léa Rener

But the declaration of death was a pretext to better cheer its resurrection. The renaissance would take a new form, in line with digital innovations and the freedom to create that technology offers, "thanks to which we are all photographers, musicians, directors." "Technology that my children handle with a 'Get lost, Dad,' attitude, which I adore," he added.

In order to plunge decisively into the cinema of tomorrow, in February of 2018, Winding Refn will launch a site in three languages, English, French and Chinese, called ByNWR.com, announced in a world exclusive at Lumière 2017. On this platform, "completely free of charge and with no subscription or advertising - nothing that can corrupt young viewers" one of the 200 films from the filmmaker's private collection will be made available each month, works compulsively bought in recent years to save them from oblivion. "This film can then serve as an inspiration for artistic creations, which everyone can upload to the site," the only obligation being that they "arouse fascination and curiosity," said the director of Pusher and Drive.

"At the time of the Lumière brothers, the cinema was free, and soon all shows will be free," predicted Nicolas Winding Refn, proud to have piqued the curiosity of his audience. The first film to be released on ByNWR.com will be The Nest of the Cuckoo Birds by Bert Williams, a film found and restored by Winding Refn - for $35,000 out of pocket, he specifies, and screened Monday night at the Institut Lumière in a double feature with Curtis Harrington's Night Tide. "This film, which no one had seen, had become a legend in punk circles because a band, the Cramps, had a song in it," said the filmmaker. "Once restored, I watched it and... Wooooow- I have never seen anything like it!".

Rébecca Frasquet