---
SATURDAY, OCTOBER 21, 2017
---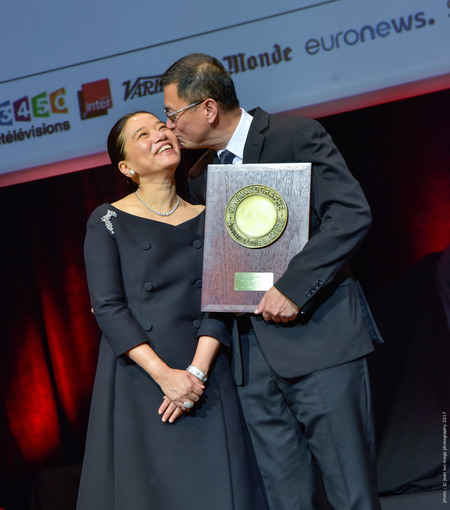 © Institut Lumière / Jean-Luc Mège

Bertrand Tavernier, a director and President of the Institut Lumière, artfully described the songs in Wong Kar-wai's films as "puffs of tenderness, of nostalgia." It was thus fittingly a musical ceremony which honored the 9th Lumière Award recipient.
Quebec singer Diane Dufresne launched the evening by singing "La Bohême," a tribute to Charles Aznavour, the festival guest of honor, seated in the audience. Then Wong Kar-wai's faithful collaborator, cinematographer Christopher Doyle, gave us a jolt with his meandering punk madness, shouting over a song by Françoise Hardy "I want him back...!" while showing a montage of his shots from In the Mood for Love. Cellist Sonia Wieder-Atherton then played the sublime theme of the film, before a discourse by filmmaker and friend, Olivier Assayas.
Wong Kar-wai is above all a great poet of the cinema who knew how to look at Hong Kong "as no one else could… with love." An "ephemeral city," facing the threat of being swallowed by China, "a world which insists on preserving fragments," he said. "He is a filmmaker of 'memories of memories,'" who also knew how to express the "nostalgia of the Shanghai of the 30s that haunts Hong Kong" and "one of the greatest inventors of contemporary cinema forms." Afterward, young singer Camelia Jordana sang, in Spanish - and a capella - a soaring rendition of "Quizás, quizás, quizás," before Bertrand Tavernier took the stage and saluted the filmmaker who "fights against the dictatorship of time." He continued, "A heart beats in all the films of Wong Kar-wai: stripped raw, laid bare, one feels its pulsations, its surges, the moments when it stops.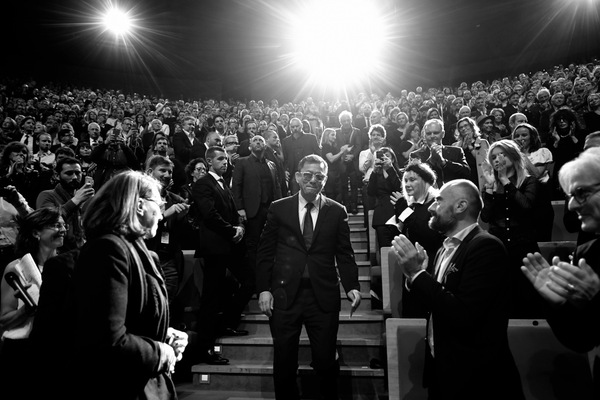 © Institut Lumière / Olivier Chassignole

The Lumière Award laurate 2017 then took the floor: "Thanks to the Lumière brothers, many of us have had the chance to do magic tricks. It's been 30 years now that I've been doing magic tricks, and I would like to thank the public and my collaborators, without whom the tricks would not succeed." The filmmaker of "impossible love" then dedicated his award, with emotion... to his wife and muse, Esther, who has inspired "glimpses of all the female characters" in his films, inviting her to join him on stage. "Thank you, Lumière, thank you Lyon, and long live the cinema!" declared Wong Kar-wai before receiving his award from the hands of actress Isabelle Adjani. The evening ended on a festive note with the jubilatory "Happy Together" by the Turtles.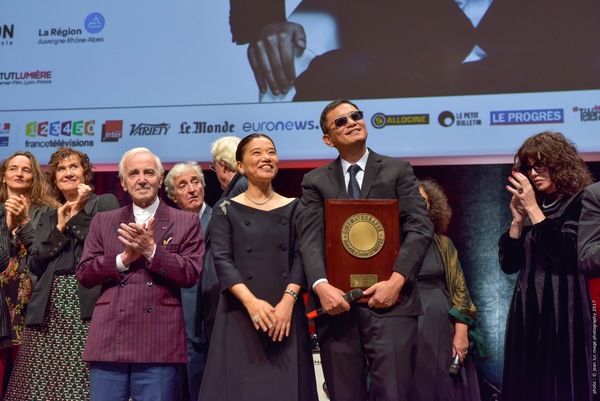 © Institut Lumière / Jean-Luc Mège
---
Rébecca Frasquet