---
PostED ON TUESDAY, OCTOBER 17, 2017

---
A guest of honor at the Lumière festival, actress Tilda Swinton was at the Comédie Odéon Monday morning for a grandiose Master Class. A conversation as amusing, generous and intense as the artist herself.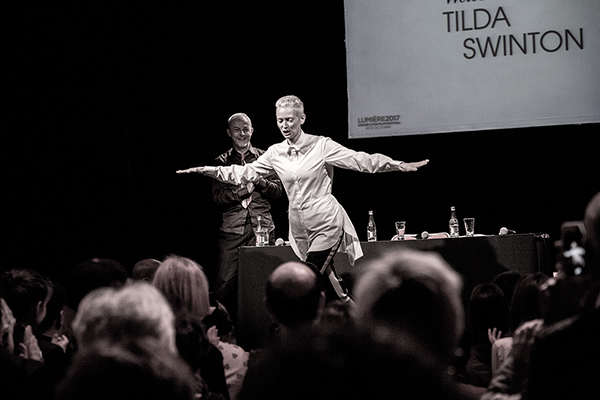 © Institut Lumière / Bastien Sungauer


Autographs, requests for selfies and even accolades… at the conclusion of her master class held Monday morning, Tilda Swinton encountered a large crowd of fans at the Comédie Odéon. For more than an hour, the "Queen of the festival" (as Thierry Frémaux calls her), candidly detailed her career and her vision of the cinema. Even if she claims she is "not an actress," Tilda Swinton knew from a young age that she wanted to be "part of the tribe of those who make art." "As filmmaker Robert Bresson used to say, 'art is a battlefield.' So, you had to be a soldier. My father was a soldier, which works out fine for me! "

At the University of Cambridge, young Tilda abandoned writing to devote herself to the theater. Adept at horse racing, she managed to sustain it a year, thanks to the performances of a stallion named Diablerie. But it is the cinema that gives her the big reward in the 80s, when she meets Dereck Jarman: "the luck of my life," she says. The film Caravaggio, released in 1986, marks the beginning of a great collaboration and a solid friendship.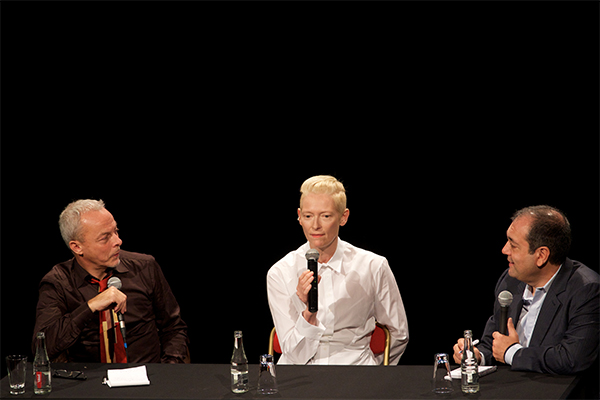 © Institut Lumière / Loic Benoit

As a muse of the British independent scene, Tilda feels like a fish in the Thames: "We just wanted to be ourselves," she summarizes. Since then, the chameleon artist likes to keep people guessing. From an independent film by Jim Jarmusch to David Fincher's Hollywood productions, Tilda Swinton defies clichés and oversteps boundaries at every turn. A soldier, we tell you. Do not talk to her about nationality, age or era: "the peculiarity with the cinema is that it is accessible to everyone, everywhere, all the time!" On the Comédie Odéon stage in Lyon, the Englishwoman admitted to having "a penchant for characters on the edge of the precipice." As for us, we have a penchant for being enamored of Queen Tilda!

Laura Lépine