---
SUNDAY, OCTOBER 17, 2017
---

Actor, director, photographer and globetrotter, Vincent Perez was at the Maison du livre, de l'image et du son of Villeurbanne for an open and intense conversation. Highlights.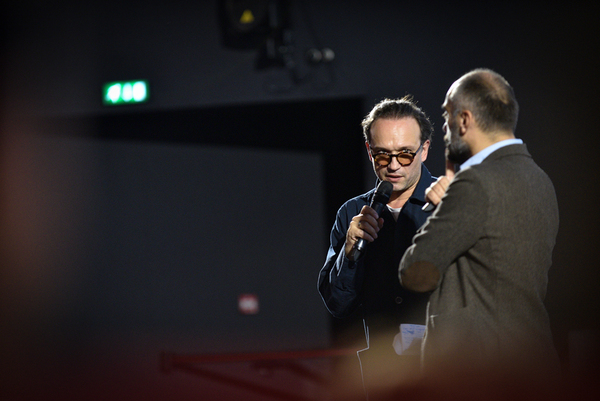 © Institut Lumière / Jacques Croizer
Childhood
"I grew up in the lands of the Swiss canton of Vaud; it was beautiful, my first memories of my childhood are magical. I was born to a Spanish father and a German mother, so it took me many years to understand where my family came from. For a long time, I was carrying around emotional baggage and didn't know how it originated. While working on my film, Alone in Berlin, based on Hans Fallada's eponymous novel, I researched my family; I needed to tell this story. And I realized that my family was very actively involved in the resistance against fascism and Francoism."

Vocation
"As a child, I spent my days drawing and playing soccer. A little later in school, I started the theater, directing my classmates in plays I also played parts in. At age 14, I acted in my first play. At the end of the show, I thought I was going to be yelled at. In fact, everyone congratulated me, and I knew I was going exactly in the right direction! I applied to the Conservatory of Geneva and then moved to Paris at age 17 to attend the Conservatory there: it was amazing to meet people who had the same passion I did."
Patrice Chéreau
"I started working with Patrice Chéreau when I was a third-year student at the conservatory of dramatic arts in Paris. It was extraordinary to film with him- he's someone who pushes you to go beyond your comfort zone. He was my mentor, a master who helped me gain recognition. He had an incredible work ethic - Patrice never took vacations. My work with him helped me define my approach to certain characters I played. Moreover, he also had me work a lot on my humor, especially for the character of Serge in Hotel de France."
Cyrano de Bergerac
"Filming Cyrano de Bergerac was a tour de force for everyone: Jean-Paul Rappeneau, was at the height of his glory, there were phenomenal actors like Gérard Depardieu and Anne Brochet and a role for me that corresponded well with the work I'd done with Patrice Chéreau. I have never experienced that since the film! And then, when one works with an actor like Depardieu, with a character that suits him so well... It was incredible, I was so impressed. To act with him, you have to let go, you cannot hide yourself away, and Gérard lifts you up, he supports you."
Photography
"Photography is linked to the profession of being an actor. I think it's my way of enriching the actor and director that I am. For my first book, A Trip to Russia, which has just been released, I met hundreds of people whose portraits I shot. François Hébel, director of "Rencontres d'Arles," helped me to shape myself as a photographer. What interests me with photography is entering the lives of others; I try to make sure that the presence of the subject exists in the image, to capture a piece of soul."
Laura Lépine