Le mystère Clouzot
Henri-Georges Clouzot (1907-1977), known for his black-and-white thrillers such as Diabolique or The Wages of Fear (William Friedkin's Sorcerer is the remake of the latter), counts among the greats of French cinema, who worked with actors Pierre Fresnay, Simone Signoret, Louis Jouvet, Suzy Delair, Charles Vanel, Yves Montand... Lumière offers a complete retrospective of his work in restored prints, thanks to distributor Les Acacias, Pathé, Gaumont, TF1 Studio, Studiocanal, Les Films du Jeudi.
Avec le soutien de




Thank you to distributor Les Acacias and to Ciné Patrimoine Concept.
Clouzot retrospective and exhibition at the Cinémathèque française from November 8th 2017.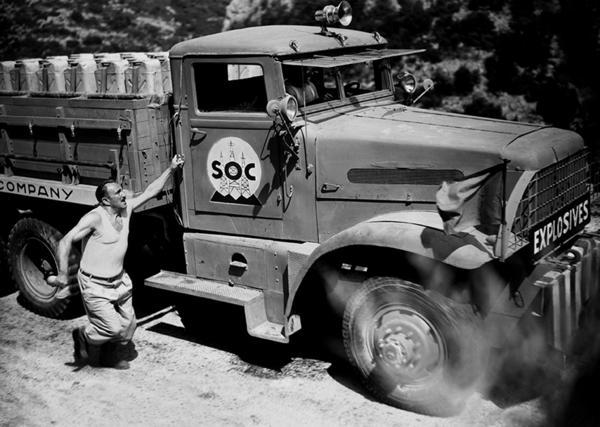 Master Class
Henri-Georges Clouzot by Pierre-Henri Gibert
And the screening of Brasil (1950, 13min), a montage of rare images that prefigure the documentary film that Clouzot wanted to shoot in Brazil on the occasion of his honeymoon with Véra Clouzot.
Villa Lumière Mon. 16 at 4:15pm
The Murderer Lives at Number 21 by Henri-Georges Clouzot (L'Assassin habite au 21, 1942, 1h28)
A serial killer terrorizes Montmartre. Produced by the Continental, a German company producing French cinema during the Occupation, a vaudeville thriller with Suzy Delair, Pierre Fresnay, Noël Roquevert and Pierre Larquey.
Comœdia Mon. 16 at 11am I Pathé Bellecour Wed. 18 at 9:30pm and Thu. 19 at 2:30pm I Ciné Caluire Sat. 21 at 8:30pm I Lumière Terreaux Sun. 22 at 4:45pm


The Raven by Henri-Georges Clouzot (Le Corbeau, 1943, 1h32)
Anonymous letters target the notables of a small provincial town, particularly Dr. Germain... An unflinching echo of the Occupation and collaborationists, a masterpiece. With Pierre Fresnay, Ginette Leclerc.
Lumière Terreaux Sun. 15 at 9pm I Pathé Bellecour Mon. 16at 11am and Fri. 20 at 4:45pm I Cinéma St-Denis Sat. 21 at 2:30pm


Quai des Orfèvres by Henri-Georges Clouzot (1947, 1h46)
A music hall singer agrees to dine with a businessman. Her jealous husband (Bernard Blier) goes to the man's house; there's death in the air... Clouzot, after being banned from making films after the Liberation, is redeemed, and returns with this dark and intriguing work. With Louis Jouvet and Suzy Delair.
Craponne Sun. 15 at 7:30pm I Comœdia Tue. 17 at 10:45am I Pathé Bellecour Wed. 18 at 4pm and Fri. 20 at 10:45am I UGC Astoria Sat. 21 at 6pm


Manon by Henri-Georges Clouzot (1949, 1h45)
During the Liberation, two fugitive lovers, Manon and Robert, are discovered on a boat... Free adaptation of Manon Lescaut by Abbé Prévost, the story of a passionate and cruel love, with Cécile Aubry and Michel Auclair.
Pathé Bellecour Tue. 17 at 10:45am I Lumière Bellecour Thu. 19 at 2:30pm I Lumière Fourmi Fri. 20 at 2:45pm


Miquette by Henri-Georges Clouzot (Miquette et sa mère, 1950, 1h35)
The Belle Époque. Miquette works with her mother. Urbain, the nephew of the local marquis, is enamored with her, which highly displeases the latter... A lively comedy with Danièle Delorme, Bourvil, Louis Jouvet.
Villa Lumière Sat. 14 at 2:45pm I Pathé Bellecour Tue. 17 at 11am and Thu. 19 at 4:30pm


The Wages of Fear by Henri-Georges Clouzot (Le Salaire de la peur, 1953, 2h36)
European refugees in Central America are desperate to leave. They get their chance when they discover men are being sought to transport nitroglycerin... Palme d'or, Golden Bear, a thriller with Charles Vanel and Yves Montand.
UGC Confluence Sun. 15 at 3:45pm I Pathé Bellecour Mon. 16 at 2:15pm I Tassin la Demi-Lune Thu. 19 at 8:30pm I Pathé Bellecour Sat. 21 at 2:30pm I Comœdia Sun. 22 at 2:30pm


Diabolique by Henri-Georges Clouzot (Les Diaboliques, 1955, 1h57)
Two women, wife and mistress of the same man, decide to collaborate to get rid of him... A cynical masterpiece with gripping suspense, starring Simone Signoret, Vera Clouzot, Paul Meurisse and Charles Vanel.
Institut Lumière Sat. 14 at 10:45am I Pathé Bellecour Sun. 15 at 5:15pm I UGC Confluence Wed. 18 at 8:30pm I Bron Thu. 19 at 2:30pm I Pathé Bellecour Sun. 22 at 4:30pm


The Mystery of Picasso by Henri-Georges Clouzot (Le mystère Picasso, 1956, 1h18)
Picasso at work, filmed by Clouzot... Through an ingenious device, the filmmaker, passionate about painting, tries to penetrate the mystery of Picasso's work and creation. One of the finest movies on art.
Comœdia Sun. 15 at 2:30pm I Lumière Terreaux Tue. 17 at 7pm I Cinéma Opéra Wed. 18 at 5:15pm I Pathé Bellecour Thu. 19 at 11:15am


The Spies by Henri-Georges Clouzot (Les Espions, 1957, 2h05)
The owner of a psychiatric clinic on the brink of bankruptcy agrees to hide a certain Alex, tracked by the secret services... A movie about spying and love, playing with the absurd and the Kafkaesque.
Pathé Bellecour Wed. 18at 10:30am I Cinéma Opéra Fri. 20 at 4:45pm I Lumière Fourmi Sat. 21 at 2:30pm


The Truth by Henri-Georges Clouzot (La Vérité, 1960, 2h10)
Dominique Marceau is accused of murdering her lover. This young, liberated woman with loose morals tells her story... A courtroom drama about passionate love, with Brigitte Bardot as the tragic beauty, Sami Frey, Charles Vanel.
Pathé Bellecour Tue. 17 at 7:45pm and Wed. 18 at 10:45am I Lumière Terreaux Thu. 19 at 2pm I Comœdia Fri. 20 at 2:30pm I Cinéma Bellecombe Sat. 21 at 8:30pm


Woman in Chains by Henri-Georges Clouzot (La Prisonnière, 1968, 1h46)
Josée, the wife of artist Gilbert, falls under the charm of a gallery owner who photographs naked women in sometimes humiliating positions... A sultry atmosphere, starring Élisabeth Wiener, Laurent Terzieff, Bernard Fresson.
UGC Astoria Tue. 17 at 8:30pm I Pathé Bellecour Thu. 19 at 9:30pm I Institut Lumière Fri. 20 at 7pm I Lumière Terreaux Sat. 21 at 7:30pm
Clouzot, screenwriter
Le Duel by Pierre Fresnay (1941, 1h16)
Thérèse (Yvonne Printemps), wife of an aviator, meets a certain Dr. Morey. She confides in the abbe, without knowing that they are brothers... Collaboration between the actor Pierre Fresnay who directed this one film, and Clouzot, author of the script.
Villa Lumière Mon. 16 at 11:30am I Lumière Bellecour Wed. 18 at 2:30pm


The Last One of the Six by Georges Lacombe (Le Dernier des six, 1941, 1h30)
Six friends are bound by an oath. When one of them dies mysteriously, an investigation begins... Produced by the Continental, a German film production company under the Occupation. A police fantasy, a game of clues full of humor and irony. With Pierre Fresnay, Suzy Delair. Henri-Georges Clouzot wrote the screenplay, subsequently becoming a director.Institut Lumière lu 16 à 9h I Lumière Fourmi Tue. 17 at 7pm I Cinéma Opéra Sun. 22 at 2:45pm
Clouzot in the 1930s
La Terreur des Batignolles by Henri-Georges Clouzot (1931, 15min)
A burglar is interrupted when a couple bursts in... The first and only short film by Clouzot, a comedy, with precocious use of chiaroscuro, a future trademark of the filmmaker.
Pathé Bellecour Thu. 19 at 2:30pm followingThe Murderer Lives at Number 21


Dream Castle by Geza von Bolváry (Château de rêve, 1933, 1h23)
A director in need of extras asks the captain of a boat to play the role of a prince. He turns out to be a bona fide prince… Clouzot, assistant and scriptwriter of the French version of this German movie, a fanciful film with Danielle Darrieux.
Lumière Fourmi Wed. 18 at 4:45pm I Villa Lumière Fri. 20 at 2:30pm
More Clouzot
Return to Life by André Cayatte, Georges Lampin, Henri-Georges Clouzot and Jean Dréville (Retour à la vie, 1949, 2h)
The return to normal life of former prisoners and deportees, in five stories... First French sketch movie since the war, including written by Clouzot, with Louis Jouvet and Jo Dest.
Villa Lumière Sun. 15 at 8:30pm I Cinéma Opéra Mon. 16 at 2:15pm I Lumière Terreaux Fri. 20 at 9:15pm I Pathé Bellecour Sun. 22 at 10:45am


Henri-Georges Clouzot's Inferno by Serge Bromberg and Ruxandra Medrea (L'Enfer d'Henri-Georges Clouzot, Documentary, 2009, 1h36)
In 1964, Clouzot chooses Romy Schneider and Serge Reggiani for his ambitious project Inferno. The filming is abandoned; the images will remain unseen for half a century. Discovered, they are fascinating.
Comœdia Tue. 17 at 5pm I Villa Lumière Wed. 18 at 2:30pm


Le Scandale Clouzot by Pierre-Henri Gibert (Documentary, 2017, 1h)
Despite influencing major contemporary filmmakers (Friedkin, Spielberg), Clouzot remains under-appreciated in France. Peering into his extraordinary life and his works, one discovers an elusive, versatile and inventive man.
Villa Lumière Tue. 17 at 2:30pm and Sun. 22 at 11:45am


La Continental : Le mystère Greven by Claudia Collao (Documentary, 2017, 52min)
Alfred Greven was appointed by Goebbels to create the company Continental Films in France, during the Occupation. Who was Greven, the head of this most innovative of French studios, which produced movies during this somber period?
Villa Lumière Wed. 18 at 11:30am I Villa Lumière Sun. 22 at 10:15am